FAQ
Frequently Asked Questions
Q&A
Privacy Policy Terms & Conditions Contact
---
GENERAL
Can I use Free Assets commercially?
Access to Free Assets is intended for testing ScansLibrary assets and its integration. As such, they are not to be used commercially on any trial account. However, if you have an active ScansLibrary subscription (Personal license, Indie license, Business License, Studio Licenses), feel free to use even these Free Assets commercially.


How often are new scans added?
New scans are released on a weekly basis, and new entire locations and scan categories are released every season.


Can I import the assets into a "CUSTOM" scene and sell in Stores? (TurboSquid, UnrealEngine Marketplace, Unity Asset Store etc.)
Unfortunately no, this is considered redistribution as both textures and models will be included in the distribution of the sample scene.
Is the data consistent across the library?
Yes, all surfaces are calibrated consistently across the entire library and adhere to a consistent texel density, and all geometry follows the exact same standard for LOD steps, topology, UV mapping, baking and consistent mesh scale.


Which map resolutions are supported?
The highest resolution available is 8K. All 3D Asset scans support 8K maps, and the max resolution for surfaces range between 4K-8K depending on surface area (1 x 1 m / 2 x 2 m / 3 x 3 m). Atlases have a max resolution of 4K due to the smaller size of the scan subjects.


Which file formats are supported?
Maps can be downloaded as either 8 bits per channel JPEG and 32 bits EXR. The JPEG file formats have been selected simply because of their efficient file size. Meshes can be downloaded as either FBX and OBJ . We also support .uasset for UnrealEngine 5 and .usd for Nvidia Omniverse.
How do I import .UASSET files into the UnrealEngine project?
First, .uasset format only supports version 5.0 and higher. You should extract the "ScansLibrary" folder into the "Content" file of your project..
Example: Your_Project\Content\ScansLibrary\3D_Assets\ ...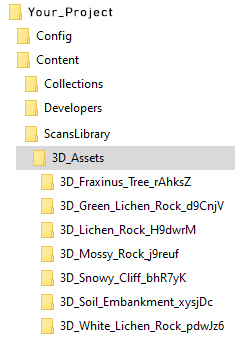 What maps are included and how do I use them?
Each material is identically scanned, calibrated and processed and thus follows a consistent standard. Both Metalness and Specular shader workflows are supported standards. Maps are provided for both real-time and offline rendering contexts. This means the scanned maps plug into Unreal Engine 4-5, V-Ray, Octane, Arnold, Nuke, Mari, Unity3D, Maxwell, Cryengine, Redshift, Mizuchi and any other software that supports standard PBR workflows.

Can I redownload textures or assets without spending credits again? Where can I find them?
Yes! After you purchase a texture or asset, they are considered an "Acquired Asset". You can redownload acquired assets, in any of the available formats available for that asset, for as many times as you like! You can find it in the section "MY SCANS".
PAYMENT SECURITY


Which credit cards are accepted?
Visa, Mastercard and American Express are accepted.
What is Dynamic 3DS System?
Dynamic 3DS system allows you to give our customers a flawless experience by simply redirecting only the risky payments to 3DS verification process thanks to AI, meanwhile low risk payments are completed in miliseconds.

Buyer Protection Keep You Safe?
Buyer Protection is your safe guard for a seamless shopping experience. "Will my credit card be copied?" "Is this website safe?". No need to worry about these any more. With PCI-DSS Level 1 certificate and our in-house AI based fraud system, your card information is always safe with us. This is why Buyer Protection is the new safety net of online shopping!
SUBSCRIPTION PLANS & CREDITS

What are the differences between the types of plans?

Personal License

You qualify for a personal plan only if you are an individual and either (i) use ScansLibrary Content only for your personal purposes and not for any business or other commercial purpose or (ii) generate less than $100,000 USD in annual gross revenue.
Indie License
You qualify for an indie plan only if you, together with any controlling entity and other entities under common control with you, (i) generate less than $1,000,000 USD per year in annual gross revenue and (ii) are not affiliated with or funded by a publisher owned or controlled studio.


Business License
The Business License is for entities generating less than $2,000,000 per year in annual gross revenue (based on latest available completed fiscal year reporting) and employing a up to 5 seats for members of your team.

Studio License
The Studio license for Game, VFX, Advertising and Visualization teams with more than $2,000,000 yearly revenue or funds raised. A Studio License is project title specific and a separate Studio License is required for each project.

What are the differences between the monthly and yearly plans?
Yearly plans offer more value as you get a discounted rate for paying for 12 months up-front. In yearly plans, you will get more credits at the first stage
Does my subscription automatically renew?
Subscriptions (Monthly / Yearly) are not renewed automatically. You can use your existing credits until the end of the subscription.

Can I buy On-demand credit packs?
Yes, you can purchase On-demand credit packs. In addition to subscription credits, you can purchase an unlimited number of credit packages.

Do the credits roll-over if I have a Subscription? Do they expire?
If you have an active Subscription, credits in your plans are available during your subscription. Please note that if your Subscription expires, credits are no longer use. It will be blocked until you buy a new plan.
You can purchase credit on demand for the duration of your subscription. You can use these credits during your subscription.

Can I use the textures or assets, even after my subscription expires?
Yes! You can use them at any time, as long as you use them according to our terms and conditions.

What currency are the prices in?
All prices are in USD.

Do the prices on the Pricing page include VAT?
No, they do not include VAT. Value Added Tax will be automatically added to every payment if your country or state has adopted the use of VAT.

What are the credits for?
Credits are used for purchasing ScansLibrary assets, such as Atlases, Surfaces, 3d Assets, Landscapes and For Games Models. When you purchase an asset, you will be able to download all of the individual files included (such as a Albedo, Normal, Specular, AO etc. for a asset. Our assets cost 1 to 30 credits each, depending on the type.